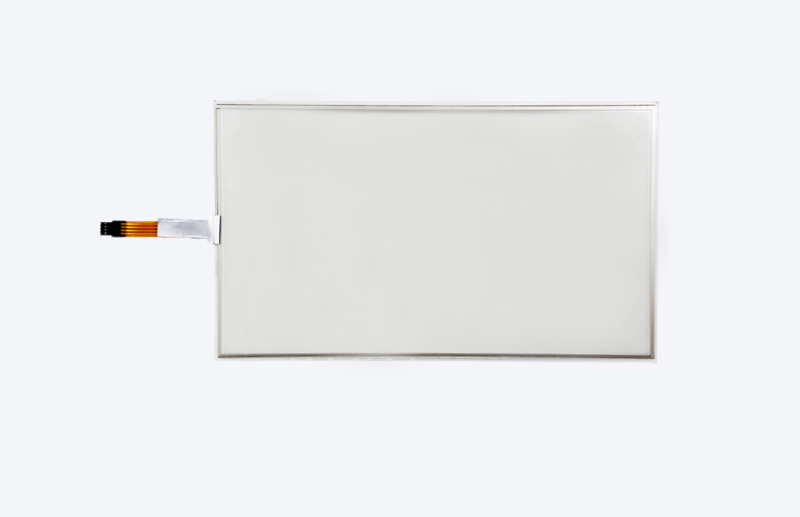 15.6" 4-wire resistive touch screen
Overview:
The GreenTouch 4wire resistive touch screen uses the proven four-wire resistance technology, which is the best choice for high reliability, input flexibility and superior anti-interference. Touch is achieved by pressing the sensor, suitable for a variety of strong magnetic fields, strong electric fields , complex lighting and other complex operations. The 4wire resistive touch screen with EETI control card or FangXian control card can run various operating systems perfectly, and can provide products of various sizes and customized product selection.
4 wire resistive touch screen operation principle:
The 4wire resistive touch screen consists of a glass underlayer or film underlayer with a conductive coating and a cover layer with a conductive coating. The two layers are separated by tiny insulation points.
When touching a resistive touch screen, the controller separately drives the circuits on the bottom and overlay layers (X-axis and Y-axis)
The voltage is +5V and simulates the position of the touch from the change after the touch.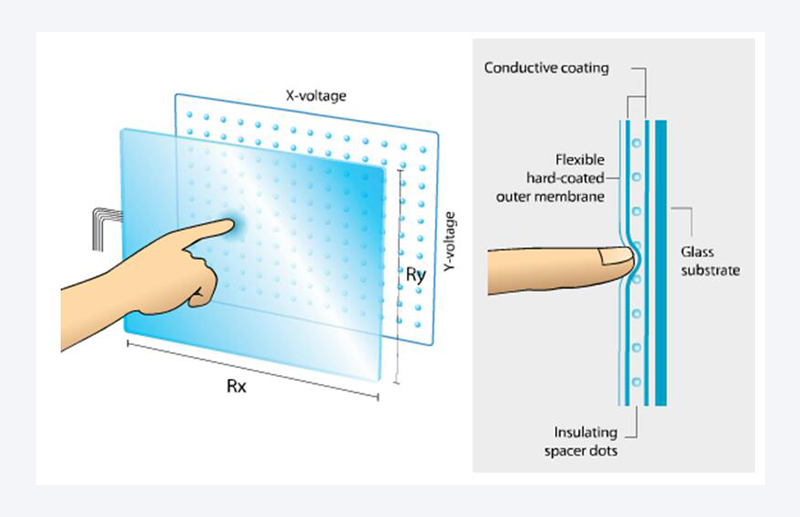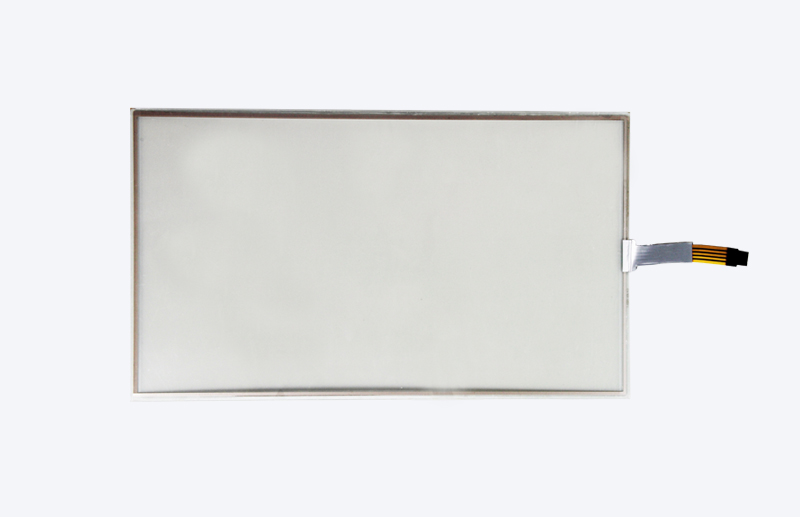 Quality Assurance:
GreenTouch's 4wire resistive touch screens are made of well-known Chinese brands and are protected by FPC press-fits from different manufacturers. The result is a longer use of the GreenTouch 4wire resistive touch screen, life. 4wire resistive touch screen is highly sealed to IP65 standards, and each touch screen is tested for 3H pencil hardness by ASTM D3363. Already have ROHS, CE and FCC international agency certification.
Product drawings:
The 15.6-inch four-wire resistive touch screen has a 16:9 aspect ratio and the touch screen structure is G+F. Dimensions: 358.3mmX208.5mm, visible area: 347.3mmX196.6mm, drive area: 344.3mmX193.6mm. Display error is less than ±1%, 100000 touch points per square inch, FPC flexible cable length is 90mm, Portrait version, the interface is square socket with double row 2x5, 2x6 needle, diameter 0.0635mm.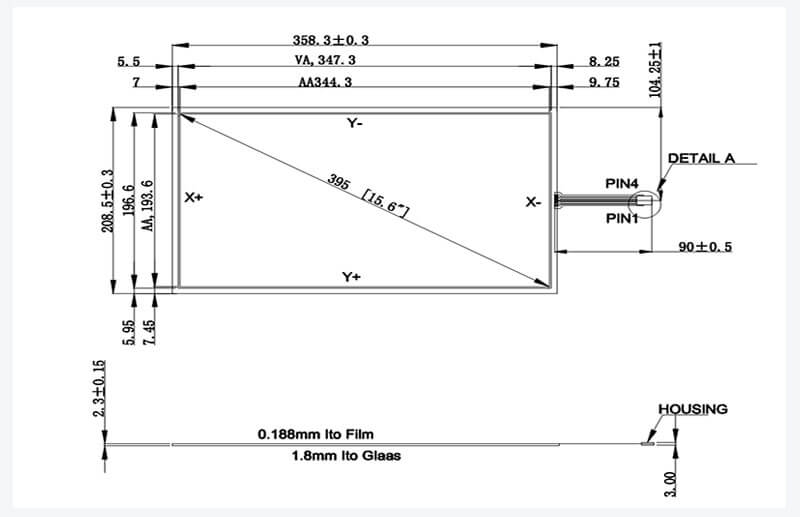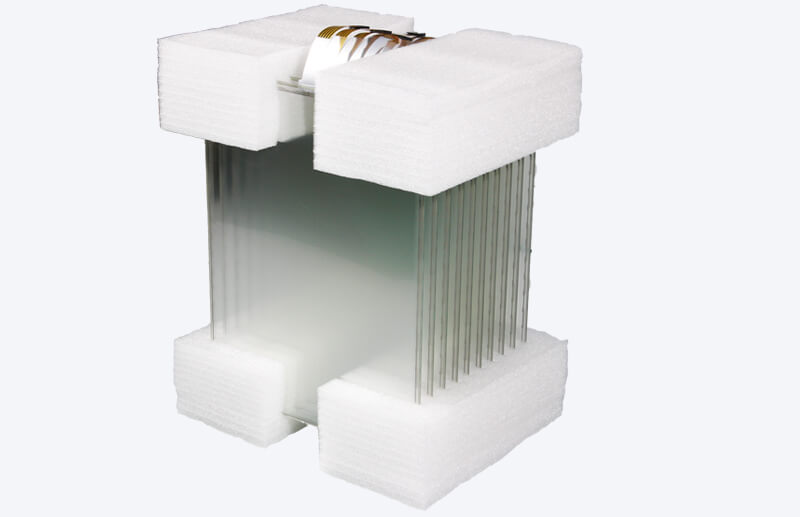 Product packaging:
The 15.6-inch four-wire resistive screen is divided into two inner and outer packages, with an EPE foam inner layer and a traditional cardboard outer layer. Place the touch screen into the corresponding EPE foam, each touch screen corresponding to each EPE grid. There are 10 grids, each grid can put 1~2 pieces. Then put the EPE into the corresponding carton. Each size of the touch screen corresponds to each size of the package. This figure is for reference only.
Company Profile:
The GreenTouch factory is located in the high-tech city of Shenzhen, China. It covers an area of more than 2,000 square meters and has a plant area of more than 1,700 square meters. GreenTouch's resistive touch screen, projected capacitive touch screen, infrared touch screen, projected capacitive touch film, touch display and touch All-in-one, touch digital signage and open touch displays are developed and produced here.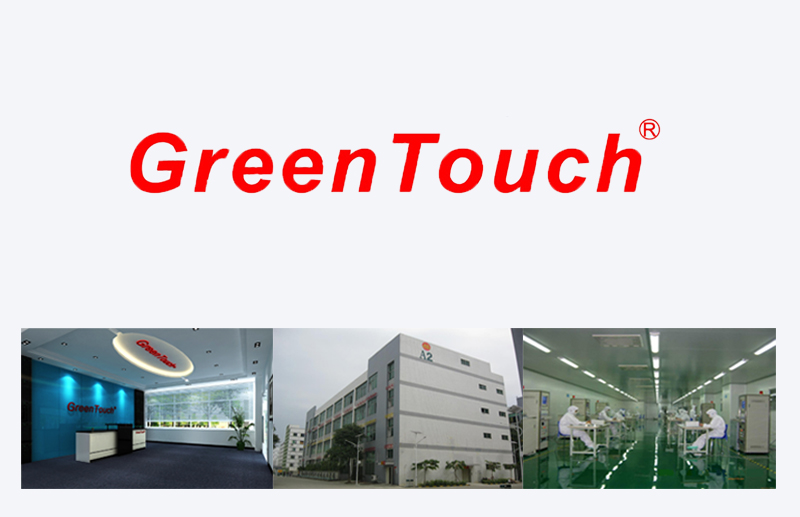 Application scenario:

Retail server
Query machine
Office automation
Medical equipment
Sales terminal POS
Voting, ticket sales and lottery sales
Production control panel for automatic workshops/equipment
Specification :
USB controller

EETI or Greentouch

Touch point

Single-point

Input

Finger, gloved, passive

resistance touch pen

Size

As below form

Transparency

≥70%,550nm

Surface treatment

Matte anti-glare

Surface hardness

3H

Water resistance

IP65

Working temperature

-20℃~65℃

Storage temperature

-30℃~70℃

Working environment

Under sunlight , indoor

and outdoor

Response time

≤10ms

Linear value

≤1.5%

Warranty

1 year

Interface type

USB or RS232

Product certification

CE,FCC,ROHS
Download:

| | | |
| --- | --- | --- |
| Size | Ratio | Model |
| 15.6 inch | 16:9 | GT-4W-15.6A-1 |
| Controller | Engineeer drawing | Specification download |
| EETI | | |
Important Note :

If you need any technical support, or if you need I2C driver, please feel free to contact eeti.Concerning of technical issue, the related touch controller driver, please contact with eeti FAE team : touch_fae@eeti.com
Certification:
(CE/FCC/ROHS certificate scan)
From now on, cooperate with GreenTouch. Contact sales (various links)
Web page navigation.