Gaming & Entertainment
As the interactive interface of many game application systems, touch display plays an important role in the game industry. With the touch screen, players can focus more on the game and have a more exciting game experience. Touch screens are widely used in gaming and entertainment devices such as slot machines, multiplayer consoles, jukeboxes, horse racing systems and self-service lottery systems.
With more than a decade of experience in touch solutions, Green Touch is committed to providing stable touch products to the global gaming and entertainment industry. Touch display is for games, high-end venues, gambling and other game equipment, such as self-service terminals, game consoles, game consoles, etc., professional design of touch display products, equipped with high-quality LCD panel, wide view, high contrast, high clarity. Compared with the high maintenance cost of traditional game consoles, the original industrial touch screen adopted by Green Touch is durable, durable, and easy to maintain, which can adapt to harsh application environments. The IP65 waterproof and dustproof function and IK08 explosion-proof function of the front panel of the display ensure a high level of sealing of the product, and greatly reduce the cost of product and maintenance. Anti-damage glass, to ensure that the touch screen is not easy to be scratched, to protect user safety.
The outside edge of the display adopts the trend dazzling LED running light design, which can provide various sizes, can set RGB colorful jump and other lighting effect modes, so that exciting players are immersed in the charming play. All products adopt multi-point capacitive touch technology, featuring fast touch response, high precision and strong anti-interference, it is an ideal touch solution for strict gaming environments such as casinos, gaming, and entertainment industries.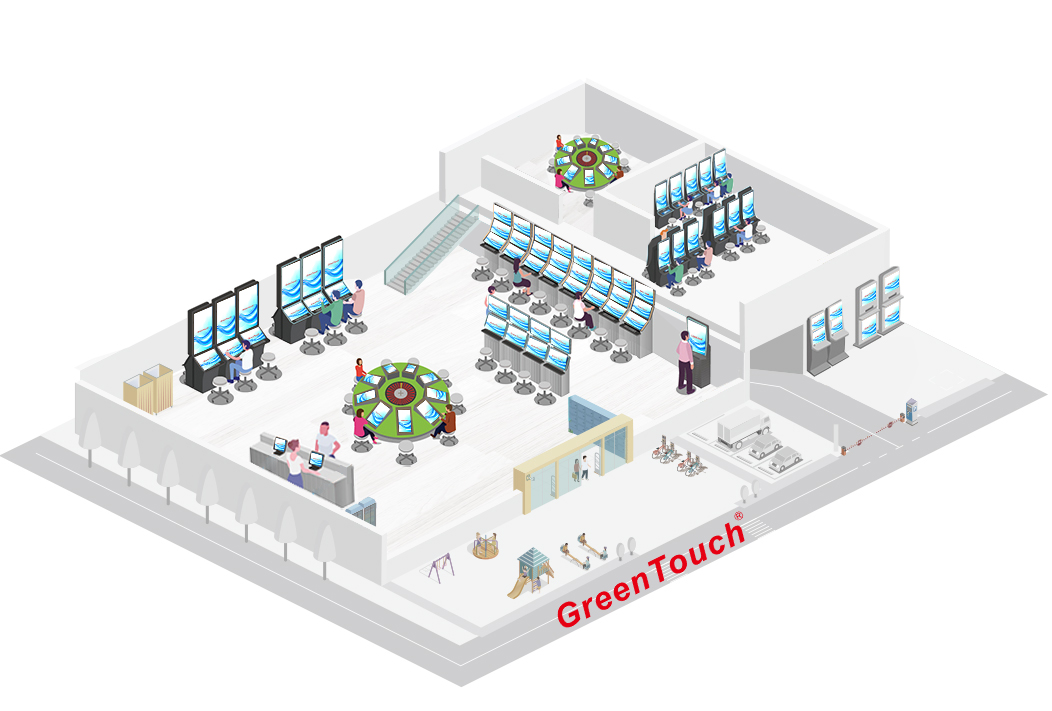 GreenTouch's Touch solutions are applied to devices such as:
| | | | |
| --- | --- | --- | --- |
| | | | |
| Touch for Slot Machinee | Touch for Gaming Machine | Touch for Gaming | Touch Game Entertainment |
Products Built for Gaming & Entertainment:
| | | | |
| --- | --- | --- | --- |
| | | | |
| GT-PM-3M series LED 21.5''-32'' | GT-PM-3M series LED PorTrait 21.5''-32'' | GT-3M-2C series Open frame 15''-55'' | GT-3M-2C Open frame PorTrait 15''-55'' |